Planning events in the BC area just got a lot easier. There are many places where you may have considered hosting an event only to find out that there is no restroom available. With Blue Jay Rentals, restrooms and washrooms are always available. You can rent what you need when you need it for as long as you need it.
Restroom rentals are great for so many outdoor occasions. If you're planning a wedding in the great outdoors, you are going to have to provide a restroom for guests to use. Blue Jay Rentals will deliver your restroom trailers for you to your specific location. Your restroom rental will be clean when it is delivered to you. You will also find that the toilet paper, paper towels and soap are provided with the rental trailer. You don't have to do anything. Blue Jay Rentals will clean the trailer after they pick it up. It's that easy.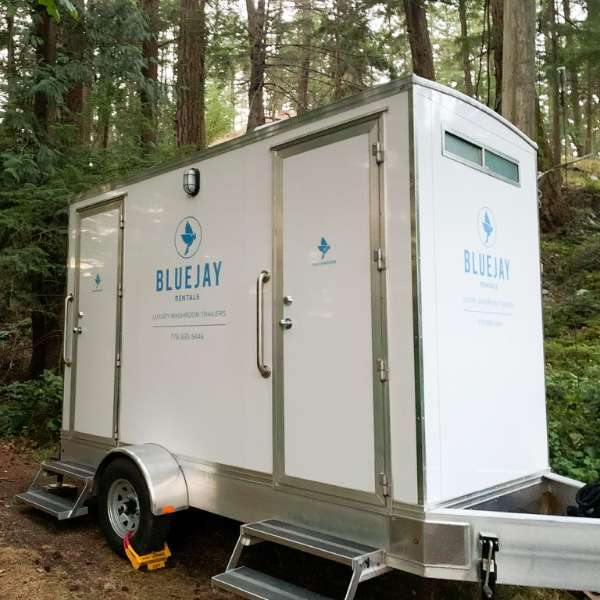 Sporting events are also a great reason to use Blue Jay Rentals. If you are planning a sporting event that is simply in a large grassy area but has no restroom facilities, Blue Jay Rentals can help. You'll find a variety of sizes that will provide the number of units that you need for the crowd that is attending. Restroom rentals make it easy to have an event just about any place you can think of.
The restroom trailers that Blue Jay Rentals provides are not like your average port a potty. These restroom trailers are nice. They are clean and they are even decorated with a variety of decor to give them that nice and comfy restroom look that everyone likes. They are heated and air conditioned, so they are comfortable to use. All of the set up is done by Blue Jay Rentals, so you don't have to do anything. It's never been easier to rent the restrooms that you need.
You are going to be very impressed with the way that these restrooms look. They are not outhouse style at all and people are really going to appreciate that when they use them. Restroom rentals make it possible for you to have your event where you want to.
When you rent your restrooms, you can create your event in the woods, in a pasture, by a lake or river or wherever you choose. It's never been easier to rent nice restrooms at affordable prices to help make your event more successful. They are perfect for weddings, big birthday parties, graduation parties, family reunions or even corporate or work events.
Let Blue Jay Rentals provide the awesome restrooms you want for your guests at your next event.
Blue Jay Rentals
Portable Luxury Washrooms
Blue Jay Rentals is a family owned and operated Portable Luxury Washroom service based in Richmond, BC. We pride ourselves in offering the most elegant and delightful washrooms coupled with our exceptionally personable service. Whether you are planning a wedding, birthday, company party, or private event – big or small, we will be available to serve you and your guests. Call or submit a quote form today!